Pros:
Funny, awesome, unique, affordable, handmade gift. No envelope needed... delivers right to your recipient's mail box as is!
Cons: This cake card looks so real it might make you hungry when you look at it...but it is NOT edible! :)
Purchase:
at the
TangBaby on Etsy.com
Summary:
Whether you are looking for a great April Fools Day Card, a calorie-free birthday gift, or just something fun for someone special...this is an awesome gift idea!
Review:
This is such a fun birthday, celebration, thinking of you, anytime occasion thing to send to your friends and family! Each slice of "cake" is hand crafted and made for the mail carrier to "serve" right in to your loved-one's mail box! Imagine getting your mail and finding this laying on top of all of the bills! :)
Check out more delicious looking cake cards at
TangBaby!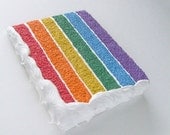 Disclosure: The opinions we have expressed are honest opinions and have not been influenced by the companies of the product. No other compensation was received.